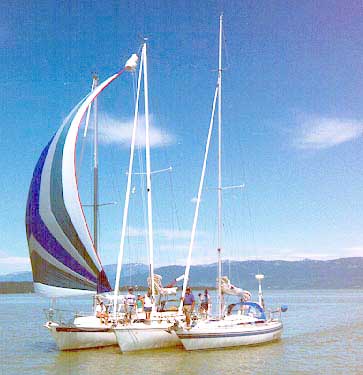 Ad for February and March 1998
Last year Tim and Sharon Jacobsen of Bozeman, Montana, ordered a set of new Pineapple Sails for their Catalina 34.*
One sunny afternoon, during a lunchtime raftup out on Flathead Lake, Sharon mentioned that the new cruising spinnaker was below, and they were going to set it for the first time after lunch. One of the raftee's said "I've never seen how you rig the sheets on the cruising spinnnaker...could you show me?" Soon all the lines were properly led. And then someone else said "Since the sail is in a sock, let's just pull up the halyard so we can see what it looks like." And up went the halyard with the sail still safely stowed inside.
Then, with everyone on the raft just standing around, looking at the sock and then at each other, the inevitable happened: "Let's try it out!"
So up went the sock...the spinnaker filled and the whole raft sailed smoothly across the lake, pulled along nicely by the Jacobsens' bright new spinnaker.
Get some Pineapple Sails and take your friends sailing!