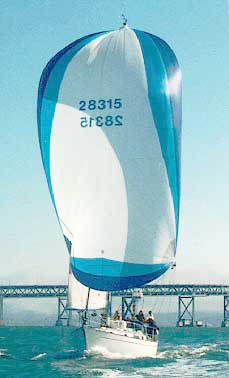 Photo: Mariah's Eyes (510) 864-1144
Ad for August 1997
Jack and Diane Bieda develop market research software. And every new revision is given a "trial run."
In 1987 they decided to give sailing a "trial run." They took sailing lessons in Sausalito, joined a charter group in Greece -- and bought "Trial Run," their Passport 40. Their first mainsail came from Pineapple, giving us a trial run as well. We passed the test, and soon replaced the furling jib.
In 1989 the Bieda's decided to give racing a "trial run." They entered Berkeley's Friday night series, sailed a windy double-handed Farallon's race, and then in 1996 did the Pacific Cup. Pineapple Sails built a genoa and three spinnakers, complete with dowsing socks. And when the boat returned, we built a new main -- 10 years after the first.
This summer, "Trial Run" raced the Coastal Cup, from San Francisco to Santa Barbara. Finishing first in her division, she completed the course in less than 48 hours!