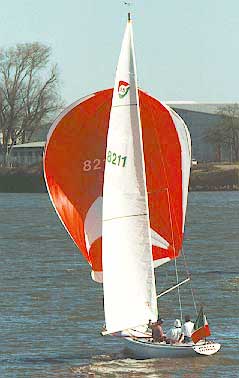 photo: Diane Whitt
Ad for September and October 1993
Stockton Sailing Club's 1993 championship series is over. And the first-place finishers in four of the six divisions were "Powered by Pineapples."
Italia, Ni Orsi and Tom Miglioni's Columbia 5.5, finished first in a fleet of thirteen boats. Italia went into the last race only a fraction of a point from two other 5.5's and, after changing leads several times with her competition, pulled ahead and stayed ahead on the last downwind leg. Ni cites their "PINEAPPLE SPINNAKER SPEED" as the deciding factor.
Wreckless, Ralph Felton's Capo 26, won Division A with a kevlar 155% genoa added last year to a Pineapple main and working jib. Wreckless won Stockton's champion of champions race as well.
Windpacer, Bob Winter's beautifully maintained Vanguard, placed first in Division B, powered by a main and jib from Pineapple Sails.
And the MacGregor 26 Off the Wall, owned by Gary Wall, won Division C with a year-old Pineapple self-tacking jib.
Let's hear it for majority rule!