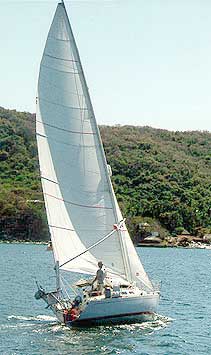 Ad for April 2001
In 1995 we featured Pteron on this very same page. Chris Maas, who builds rowing shells, had just built a modified Wylie 34 and, with his wife Monique, had sailed to the Sea of Cortez. They then sailed, and we mean sailed, the boat through the Panama Canal and on to Florida. (There's the outboard motor when needed, but it's an outboard on a 34-footer, after all. Sailing is faster. So they sail and sail and sail.) They then trucked the boat to their new home in the San Juan Islands, where Pteron (Greek for wing) continues to log mile after mile after mile.
Chris built Pteron with a wishbone boom, a small jib, and asymmetric spinnakers to make double-handing easy. He relied on his sailmaker to make it even easier. The boat's Pineapple main, jib and spinnakers have done just that. And six years later they continue to do just that.
Give us a call. Especially if you like to sail and sail and sail. We'll make it easier - and better!