GYBE CENTRAL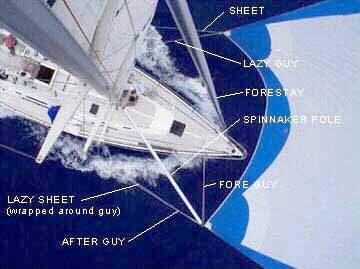 What had started out as an article/outline about gybing has grown to the point where it needs to be broken up into smaller pieces. And there are plenty of opportunities for new subjects to be added as time allows. So welcome to gybe central, where the articles on all aspects of gybing will be located.
The Dip Pole Gybe using lazy sheets and guys is the most common gybe on boats over about 35 feet. A "Dip Pole Gybe" is when the spinnaker pole is released from the afterguy, dipped down and swung through the foretriangle and attached to the lazy afterguy on the other side of the sail.
The End For End Gybe has the spinnaker pole swapping ends during the gybe. The end that used to be on the mast is now on the afterguy, while the end that was on the afterguy is now placed on the mast. This style of gybe is common on boats under 35 feet or so.