Explanation of the graphics used in the dip pole gybe articles.
The following left hand graphic labels the control lines and the spinnaker pole, using the "SET UP" stage. The spinnaker sheets are led aft, close to the transom, while the afterguys are led to middle of the boat, near the hulls widest point. Control lines which are taut are shown in red, and also as straight lines. Control lines which are slack, also known as "lazy," are shown in green, and as curved lines. The following right-hand example is at the "TRIP" stage.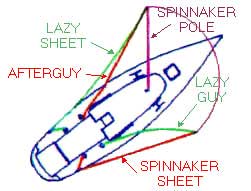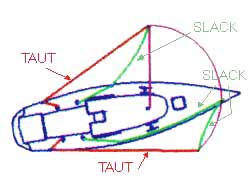 Through out this example, the wind direction blows steadily from the left hand side of the page towards the right hand side. We start out on port pole and gybe over onto starboard pole.

Notice (a) the turning of the boat and (b) the movement of the spinnaker from the port side of the boat over to the starboard side. This is initiated in the square back step with the easing of the spinnaker sheet and the grinding aft of the pole.
Dip Pole Gybes Using Lazy Sheets and Guys sorted chronologically
Dip Pole Gybes Using Lazy Sheets and Guys sorted by task