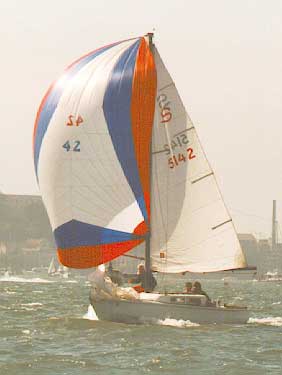 Ad for February 1994
The Wondolleck family is legend: Hal and Helen, seven sons, one daughter and now several of the thirteen grandchildren have sailed Thistles, Snipes, El Toros, International 14's, 505's... and Tempest, the family's Santana 22.
Since 1965, Hal and his family have raced Tempest in countless one-design events and club races. In 1985, the first year the boat had a new suit of Pineapple Sails, Tempest became "really competitive," finishing 4th in the nationals. Over the years the boat has accumulated 21 "bags" of sails. But as Hal puts it, "the Pineapple sails are the fast ones."
This past fall, Tempest, powered by Pineapple Sails and sailed by Wondollecks Tom, Bob, Kathy and their friend Chris, won Encinal Yacht Club's Estuary Cup. A race around the Bay that ends in the Oakland Estuary in front of the club, Tempest won the Cup two years in a row.