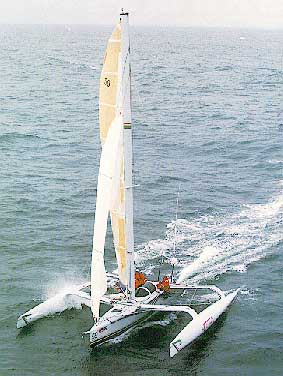 photo: Tom McDermott - BOATPIX
Ad for August and September 1994
Last year Aotea, Peter Hogg's Antrim designed trimaran, broke the single-handed record to Japan. Last month she broke the single-handed multihull record to Hawaii. With this many broken records, her success story is beginning to sound like one.
Peter enjoys the challenge of sailing alone. And Jim Antrim designed the boat and rigging with that in mind. Peter's Pineapple Sails were also designed to withstand the rigors of single-handed sailing, much of it at extraordinary speeds.
Aotea's Kevlar mainsail has logged over 10,000 miles, crossing the Pacific and sailing the Bay -- perhaps a record in itself!
Let's set the record straight: quality goes a long, long way!