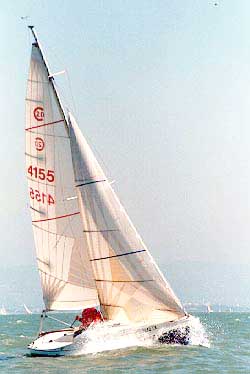 Photo: Colin Gilboy
Ad for April 1993
"Farmers," Richard von Ehrenkrook's Cal 20, has a way of cultivating victory.
Winner of this year's (and last's) Berkeley/Metropolitan Midwinters and current champion of SFYC's Midnight Moonlight Marathon, "Farmers" has put her sails to the test. A four year old jib from Pineapple Sails plows through the fleet, sailing higher and faster than anything the competition has to offer. A two year old mainsail and a one-year-old spinnaker are clearly the cream of the crop.
Richard is a builder of fine furniture up in Petaluma and, with his wife, Ali, raises two lovely children and a whole herd of sheep on their ranch in Sebastopol. His crew consists of two next-door neighbors who learned their sailing skills on the Cal.
Year around, "Farmers" just keeps on trucking. --And their Pineapple Sails are always in season!